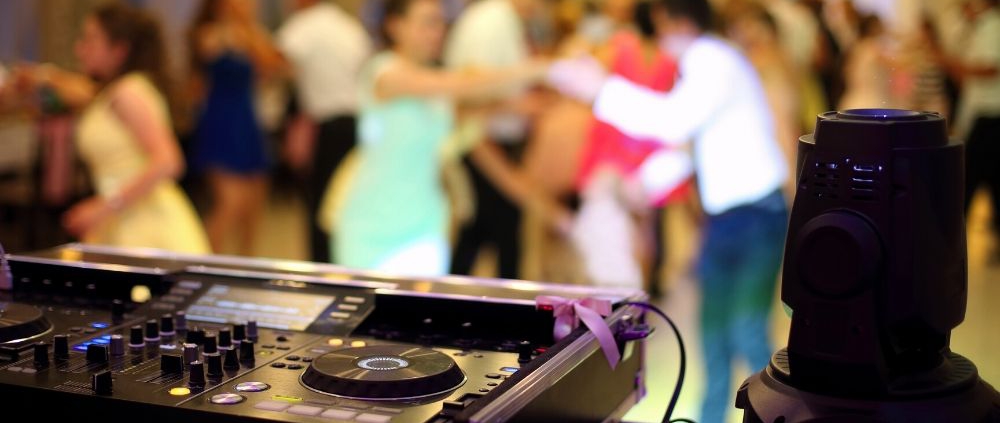 A quality DJ knows what it takes to create a successful dance at a wedding reception. You may have playlists and some ideas of your own but chances are you've never planned a dance for a wedding reception.
How many songs should you select? How much freedom should the DJ have? What should I do about the chicken dance? These are some of the questions couples ask themselves leading up to the wedding.
Selecting the music you love is an important start, but what are the other items that should be considered? A good DJ has a wealth of knowledge and experience and will make sure all your friends and families get on the dancefloor.
Give the DJ Some Freedom
In a typical dance our DJs play about 70 songs. We find it most successful when couples select 100 – 150 songs for their dance. This gives the DJ a general direction for the music and what you want to hear. The DJ then can rely heavy on your music list but use their freedom to read the crowd and adjust their approach. A great DJ can also help select songs form genres that you are not familiar with. This is often the music for your oldest guests. A great DJ knows what music is popular and what will get people on the dance floor. So, give them a direction to follow and then let them read the crowd.
Floor Size
Many couples are worried that the dance floor will be too small, so they overcompensate and make it too big. Having a smaller dance area will force your guests to interact. This helps the dance. Your guests do not want to feel like the only person on the dance floor with everyone watching. This is why we also turn off the venue's lights and turn on colorful dancefloor lights. It's a great idea to consult your venue manager on the perfect sized of dance floor for your reception.
Select Music for all of your guests
It is important to remember that the music will need to accommodate guests of all ages. Most of our couples are great selecting music from 2000 and on but rely heavily on the DJ to select music from the 1990's and before. To help our couples we have useful Top 40 most danceable song lists in each genre on our planning software. In addition to music, there are crowd participation events to consider which can take a considerable amount of time. Our planning software allows you to select which crowd participation events you think are fun so you won't be forced to do the chicken dance if it doesn't match your vision. Your DJ can create an amazing dance by getting your older guests dancing to their music and slowly transition into today's modern hits! If this is done well, your oldest guests will find themselves dancing late into the night.
Plan on Dancing at your wedding
Some brides and grooms are reluctant to get on the dance floor. They feel they need to be available to talk to guests at their dinner tables after the dance has started. Your guests will pick up social cues from you. If they see you standing around the dinner tables talking, they may stay seated thinking you will want to chat with them next. When the wedding couple is dancing at the start of the dance, it is an open invitation for all the guests. So, go have some fun at your wedding dance! Show your guests how it's done.
These are just some of the subtle things great DJs with experience. If you want answers to more DJ questions look no further than Instant Request DJ services in Minneapolis. With decades of experience we know how to create an amazing dance.
https://www.instantrequest.com/wp-content/uploads/2020/05/Ensuring-a-Packed-Dance-Floor-at-your-Wedding.jpg
600
1000
Instant Request
http://www.instantrequest.com/wp-content/uploads/2019/10/ir-logo-no-swirl.jpeg
Instant Request
2020-05-08 11:57:17
2020-06-04 11:13:52
Ensuring a Packed Dance Floor at your Wedding