About Us
Meet the DJs
At Instant Request, we think of ourselves as matchmakers.
Meet the DJs
What are you looking for in a DJ?
It goes without saying that you want a DJ with superb social skills and a great personality. Of course, they'll need to know a lot about music. They need to entertain tastefully, and not overpower your celebration. But will they be a good fit for you?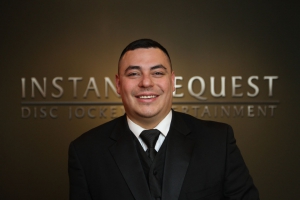 At Instant Request, we think of ourselves as matchmakers. It's our job to match you with one of our DJs whose personality and musical tastes fit the tone of your celebration. Our online planning software allows us to match you with the DJ that is the best fit for you and your guests. With our exceptional training and apprenticeship program, we are certain that your DJ's skills and professionalism will exceed your expectations.
If DJ entertainment is one of your top priorities, we offer a VIB (Very Important Bride) option called Black Tie Certified. This includes a face to face meeting with the DJ of your choice from our veteran Black Tie Certified Staff. These DJs have been perfecting the craft of DJing weddings for 5+ years, and are the most highly reviewed and requested DJs in the state.
Click the buttons below to browse our DJs, and Black Tie DJs staff profiles!